Administrator
Staff member
CmTeamPk King
CmTeamPK Boss
CmTeamPk Developer
Jul 18, 2020
2,186
3,612
521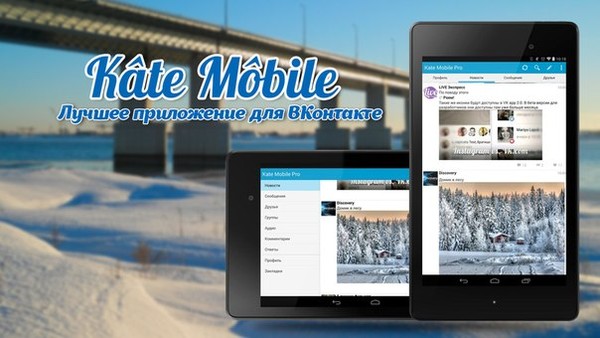 Kate Mobile is
intended for those who often communicate on the VKontakte social network. It is very similar to the original version of the application, it differs only in that it is much more convenient to use it and the widgets send text messages many times faster.
With its help, you can carry out all the same procedures as on the official application, in addition, the dialogue window was very comfortable here. And the most important distinguishing feature is the ability to connect several accounts at the same time and be in stealth mode.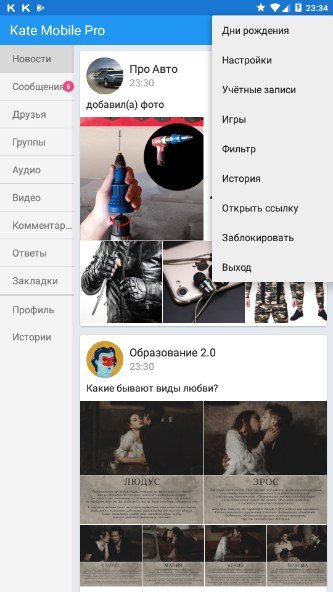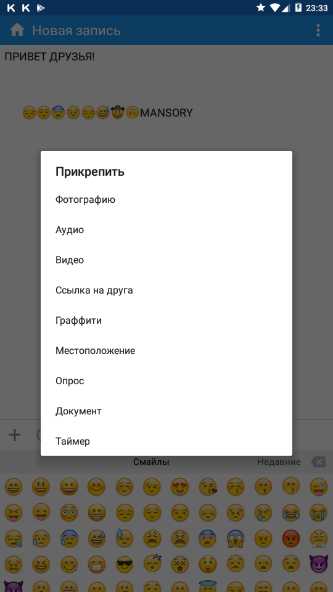 Features:
• Choice of themes: light, dark, pink, green, orange and others
• Customizable font size
• Work with multiple accounts
• Ability to install on SD card
• Tablet support
• Birthday list, birthday notifications
• Voice comments: possibility record your voice and stick it on your friend's wall.
Functionality:
• News. Comments to news
• Friends list, online friends list.
• Messages, dialogues, conversations.
• Photos. Adding a photo to an album
• Audio recordings. Adding audio recordings from your phone to your page. Audio cache.
• Video. Add video from phone to your page
• Search for music, videos, friends, groups, messages, news.
• Notifications about new messages, news, replies.
• Ability to write a message on the wall, attach photos, audio, video, graffiti
• News widget (dark / light)
• Groups and public pages
• Synchronize contacts
• Subscriptions / subscribers
• Polls (you can vote and create)
• Ability to change your avatar
• Ability do not download images to reduce traffic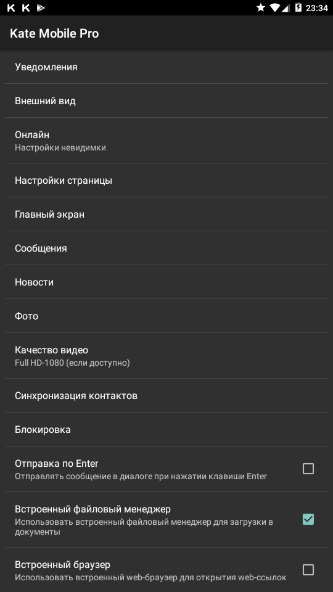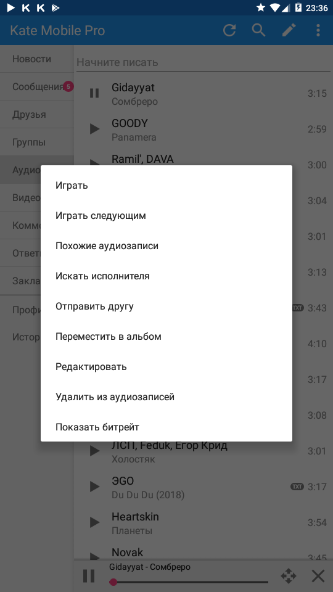 What's new:
• When you open a photo from an album and flip to the next one, you could flip through only 100 photos. Now you can scroll at least as much.
• Ability to copy part of the text of a private message.
• In the application settings, you can again set the vibration length for notifications. Not very convenient, through resetting the notification settings, but it's better than nothing.
• Search through the list of video albums.
• Fixed: the keyboard stopped opening itself in the search screen and some others.
• Fixed: not all people were displayed in bookmarks if there are a lot of them.
• Fixed: "photo - share - send photo to" did not work for some users.
OS:
Android ™ 4.0 and higher
Interface language:
Russian / multilingual
Download the Kate Mobile Pro 67.1 software (5.3 MB):